Camelot V - Update 10
June/00


---
Leaving Fiji and on to Western Samoa and Tonga
April 7th and 8th 2000 we spent re provisioning. Then on April 9th we were ready to leave Vudu Point Marina for the last time.
With Tex, Jerry and I aboard we left at about 10:30 in the morning (After warm farewells from many other cruisers and friends) and leisurely powered along the coast to Latouka where we would spend one day at anchor to clear out with customs and immigration.
Shortly after daylight on the 10th we raised anchor and got under way. This area on the north side of the Island of Viti Levu is covered with coral reefs so all navigation has to be done in daylight hours. Although most of the passages are marked. This is 'Fiji' and you never know when one or some of the markers will be missing. We picked our way through the reefs for 25miles and stopped the first night at Vatia Wharf. Here we did not go ashore but stayed on board and barbecued steak for supper.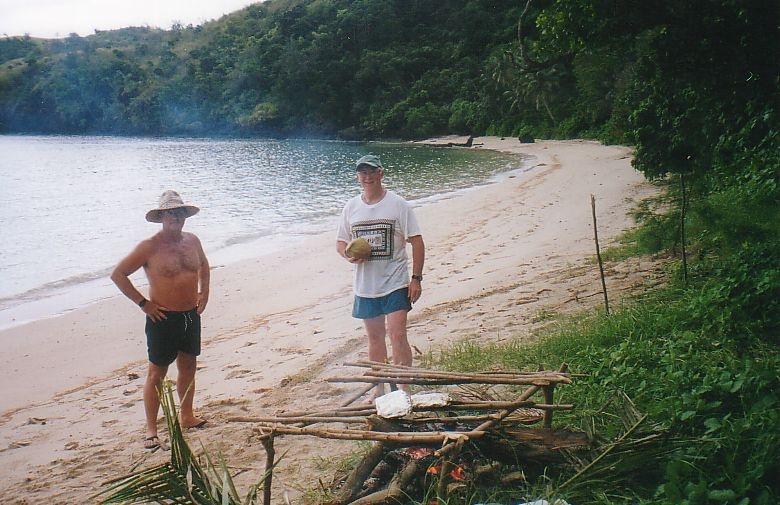 Yandua Island
Click picture to enlarge

Leaving early in the morning again and again picking our way through the reefs. Some places the pass is 3 or 4 miles out to sea but we are still in among the coral so land marks are of little help in navigating. We made 30 miles to Nanami-i-ra Island and anchored in front of the resort. After getting anchored well and all secure on board we went ashore and sampled the hospitality of the resort and stayed for a nice supper ashore.
Next morning we had another early start and powered out through Nanana passage and had a pleasant sail with 10 knots on our beam to Yandoa Island. We anchored in the bay on the west side of the island and went exploring in the skiff. We didn't go far before noticing the beautiful coral so we spent the rest of the day snorkeling. The second day was even better snorkeling with coral just unbelievably beautiful. Tex and Jerry took the scuba tanks and went for a dive in the afternoon while I stayed on board. While on the dive they came in fairly close quarters with a large shark. I won't say the shark frightened Tex, but he came back to the boat with some coconuts from tree he climbed.
About five that evening we went ashore for a picnic barbecue on the beach only to get rained out shortly after getting the fire started and had a big rush to get back aboard. The wind blew hard and with the rain we could not see the shore line less then a quarter mile off. But in about an hour things calmed down some and we had a rather squally night. We had some more snorkeling next morning but the wind was building all day. I could not get a weather fax and about 3:00 ocklock that afternoon with the wind building from the west we decided to get out of there. I did not want to go inside the reef on the south of Venua Livu Island in this weather so we would have to spend the night at sea and make for Savusavu. The wind kept steadily building. When darkness fell we were sailing with main alone and I switched on the nav lights and the compass light only to find the compass light did not work. At this time the wind increased to around 50 knots. I called Tex and Jerry to reef and was attempting to repair the compass light when I had an accidental jibe which broke the shackle on the mainsheet. The rain was coming sideways by now and stinging like bee bites. Jerry managed to hold the boom while Tex got the sail down but not before we had a large tear in it. So with only a jib now and the engine Tex rigged a light to see the compass and we continued on in very blustery weather.

Lovo at Savusavu Fiji
Click picture to enlarge

We arrived in Savusavu around 09:30 next morning in a complete calm. We tied to a mooring buoy and went ashore to the Copra Shed where we were asked if the hurricane had bothered us much. It seems that Hurricane Neil had formed. Although the storm center was about 200 miles to the SW of us we had been happy in our ignorance.
We had a great time in Savusavu. It is truly a great place for cruisers. We went fishing one day with two Fijians that we had made friends with. Then they came over one Sunday and cooked a lovo for us which was a great time for all. We helped David and Lino gather firewood, banana leaves and coconuts. Then they prepared the chickens, taro leaves, taro etc. As well as making coconut milk to put on the taro leaves. Of course we had to drink kava while the cooking was going on. In few hours it was all cooked and we enjoyed a super Fijian meal on the beach, which we shared with some other cruisers.
In the mean while I had sent our main sail to Latauka for repair and it was now back so after ten days it was time to get under way again. Jerry had left on the plane to Suva and from there on to Canada so just Tex and I would continue on to Apia, Western Samoa.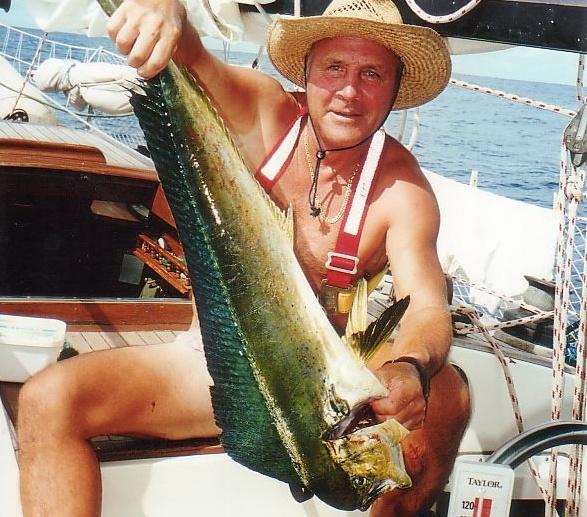 Tex - Mahimahi
Click picture to enlarge

April 25th we moved to the fuel dock, topped of our tanks (water and fuel) and buy 11:00 we were on our way for Samoa, 600 miles to windward.
Our trip for the most part was uneventful. We had no trouble going to windward. Well, there was no wind at all most of the way so it ended up mainly a motor trip.
We stopped at Niuao,ou Island a small Tongan island about half way to Samoa. We anchored for the night hoping the surf would subside enough that we could risk a trip ashore. But morning brought no improvement so after breakfast we raised anchor and continued on our way. We had little threats of wind from time to time and would sail a few miles then be back under power. We caught a nice Mahimahi to supplement our supplies. We tried fitting it on the barbecue but of course it was too large. Sometimes cruising can be just one dammed problem after another. We did however get the problem solved and had a great evening barbecue and meal.
But were starting to wonder if we were going to have enough fuel or if we would be forced to wait for wind. But fuel held out and we tied to the customs dock at 08:09 on the morning of May 1st. After getting through with custom and immigration we moved over into the bay and anchored. Then of course get the skiff in the water and go in to a new port for exploring.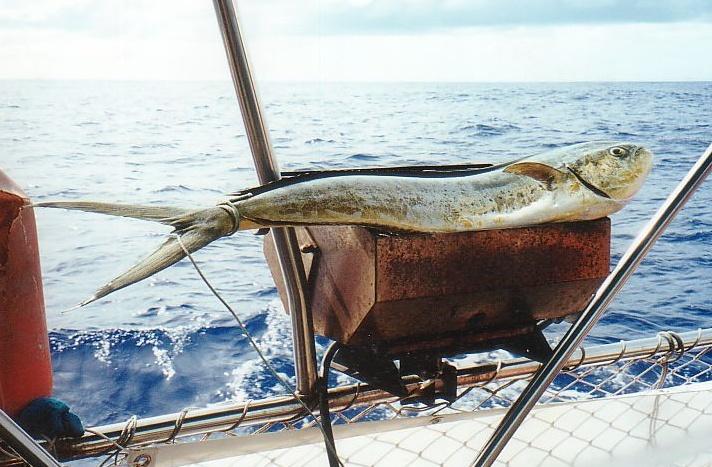 One problem after another
Click picture to enlarge

Apia is a very nice little city. We enjoyed walks along the sea wall and some very nice restaurants. Tex rented a car and we drove most of the island. The people are very poor but the place is kept very clean, with garbage barrels all along the waterfront as well as through the town. The barrels are raised so the pigs and dogs can't get into them. After a few days Tex had to leave for home. So that made things on the boat seem very quiet for a while, as I was a single hander again.
When we first arrived there was only one other boat at anchor but by the time I left boats were starting to move around and I shared the anchorage with five others.
On May 23rd I cleared customs, bought groceries, had my last meal ashore and raised the skiff onto the deck. Then next morning I sailed out of the bay and started on my way to Tonga. A few miles out of Apia I started feeling a bit under the weather so I turned into Fagaloa Bay and anchored. I stayed here for two days while I got over whatever bug was ailing me. The morning of May 27th I arose at 06:30 feeling well cooked a good breakfast, then after breakfast raised the anchor and was under way by 07:23.
My plan now being to sail for the Tongan Island of Nuiatoputapu then after a brief stop continue on to Neiafu. I motored out of the bay and out around the east end of the Island and then got sails set and set a course for Nuiatoputapu. The sail down was under light winds from various directions and at 12:15 on May 29th I was tied to the dock at Falehau. The sign on shore pointing down a gravel road and says 'Customs 3 Km's'. I walked into the village found the government office to check in. There is no electricity on the island and the government office is very basic. The friendly people had to go to another office somewhere to recognition the vehicle. When the vehicle and driver arrived we all (driver, customs man, immigration man, agriculture man, and me) piled in and went to the harbor to get our papers all in order. Everything went very smoothly and I was allowed to stay in The Kingdom Of Tonga for three months, or longer if I wanted to. One of the officers asked if I would make them a cup of coffee. It was 85 degrees F so I said "No it is too hot to light the stove but would you like a Coca-Cola?" "Yes" they said, as they have none on the island that would be a treat. I checked the fridge but only had 3 cokes left and one beer. I asked if one of them would mind having a beer instead and one of them said that he would and he had not had one for three months, as there is no beer on the island ether. After they left I moved out to the Anchorage and dropped the hook.
My stay in Nuiatoutapu was of course very quiet. I walked into the village each day and found a very nice quaint bakery. After a few days of relaxing here I felt like getting moving again. So on June 2nd I walked into town and checked out. Then early next morning I raised anchor and was on my way for the short sail of 165 miles down to Neiafu. Again an easy sail with winds from the southeast and east between 10 and 25 knots. So I had a pleasant day and a half sail. And caught a 9 pound mahimahi the second day. It was different but pleasant to be sailing into a familiar port for the first time in almost two years. Soon after arriving I went ashore and called Muriel to check on her schedule. She would be flying into Nuku'alofa in a few days. Nuku'alofa is the capital of Tonga and on an other island 165 miles further south. So I arranged a flight to meet her. We had a nice meeting in Nuku'alofo and stayed a few days to see that part of Tonga.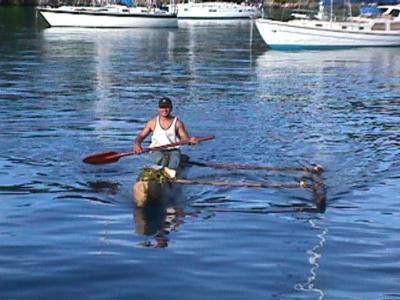 Local Transportation
Click picture to enlarge

We then flew back to Neiafu and got back to our routine aboard and back to cruising this very pleasant group of islands. And of course meeting and making new friends. We stayed in Tonga for three months. Although the weather is a bit cooler than Fiji we enjoyed it very much and met many new friends. We shared many beach potluck dinners, afternoons on the beach, card games, and of course evenings at The Bounty Bar or Anna's Café. Most of the people we met here were New Zealanders. After meeting so many nice people from that country we decided that New Zealand would be our next stop.
Muriel had to fly home again for a medical check so we decided that would be a good time for me to sail to New Zealand. It was a bit early weather wise to be sailing that direction but September 4th I provisioned, fueled up, checked out at customs and immigration and was ready for a single handed sail to New Zealand.
These islands are lovely but it is time to getting back to sea.
The GPS says The Bay of Islands New Zealand 1204 Nautical miles 189 degrees Magnetic.
Should be a piece of cake.

---
Go to last update. -- Go to next update.
Return to Return to Camelot V Sailing Page. -- Return to Dale + Muriel's Home page.