Camelot V - Update 3
Oct. 28/98


---
Sailing San Francisco to San Diego

Oct. 28/98
Great time in Sausalito we were there for a couple of days before we saw some other boats that we knew from Vancouver Island. But they started to arrive a few days after us and also meeting some of the American cruisers time went quite fast. This was the end of Justins voyage as he had to get home for school. So Muriel took the opportunity to fly home with him.
After three and a half weeks of the easy life on Sept. 17 we took the garbage ashore pull the skiff aboard and got ready for sea. At 11:30 we untied from the mooring buoy and motored out under the bridge in the company of Star Of The Winds in fog and a 4 foot chop.
Once out of the Bay we raised sail and sailed only a couple of hours before the wind died. We then motored on into Halfmoon Bay. Star Of The Winds left early the next morning but we stayed a few days before continuing on to Santa Cruz arriving on Sept. 21.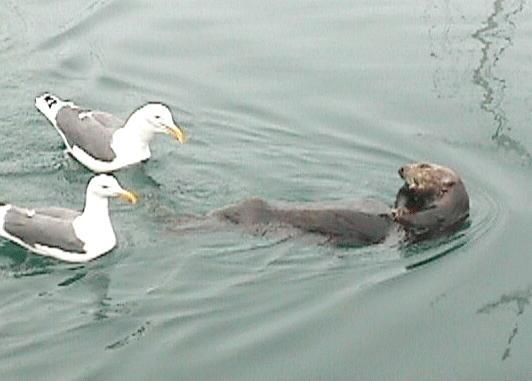 Fish For Supper
Click picture to enlarge

Santa Cruz was a pleasant place but the anchorage a bit rolly so we only spent two days there before leaving for Monterey. We had a very pleasant sail across the bay to Monterey seeing plenty of sea life , gray whales, proposes, seals and sea otters. Monterey was another very nice place with very friendly and helpful harbor personal. We were surprised to find Star Of The Winds in the harbor but they were leaving that day so we had only a very short visit with them. We spent a couple of days sight seeing. The boats Akka and Gymnopedies arrived so we visited with them one night before it was time again to leave for the next port.
We left at 14:30 on Sept. 26 for an over night sail to San Simeon Bay. But not getting much wind we motor most of the way. On arriving in San Simeon Bay we spotted the sail boat Mandolin that we had met in Sausalito so we stopped and said hi before dropping anchor having breakfast and a nap then going ashore and for a tour of the Hurst Castle. Our next stop was San Luis Obispo Bay where we anchored for two nights. Then left for an over night sail to around Point Conception to Santa Rosa Island. Having nice 15 to 20 knot winds all the way we arrived in Santa Rosa Island at 8:00 AM Sept. 30 and anchored.
Then on Oct. 2 at 17:00 we raised anchor for another overnight sail to Catalina Island. Her we met Star Of The Winds again as well as some new boats. Catalina Harbor is a nice place, we stayed for 10 days.
Oct. 14 at 14:00 hours we weighed anchor and made for yet another overnight sail to San Diego. With nice winds we arrived at San Diego Bay at 09:00 hours the next morning. Where we were greeted on the radio by Calipte, a boat we had met in Catalina Harbor. We had reserved a slip at the Cabrillo Isle Marina so we got settled in there where we are still. We have met lots of people that we met on the way down here as well as some of the boats that we had not seen since leaving Vancouver Island. Our friend Tex came down for a visit witch we enjoyed very much. We are having a great time here but it is getting close to time to leave and I haven't done the boat chores that I had planned. So for the next few days I had better get to work.
---
Go to last update. -- Go to next update.
Return to Camelot V Sailing Page. -- Return to Dale + Muriel's Home page.