Camelot V - Update 4
Dec 10 /98


---
Sailing San Diego to La Paz Mexico

The air is still quite cool at night as we leave San Diego but clear skies and nice sailing. We left our slip in Cabrillo Isle Marina at 16:00 hours and motored out past Point Loama then raise sail and had a good sail to Ensenada Mexico. Arriving at 08:00 Nov. 10.
Here we would have our first encounter with the Mexican officials. So expecting the worst I trudged off with passports and ships papers in hand only to find all offices very friendly and helpful. The staff in government offices at home could learn a bit from these people.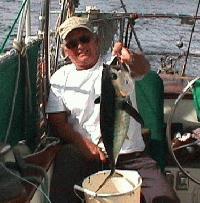 Then a walk around town and a stop for enchiladas for lunch. Ensenada is a very nice although busy place. We stayed at anchor in the bay for two days before leaving for a thirty six hour sail to Bahia San Quinton.
We're having beautiful sailing but nights still a bit cool so I wore my long johns. I'm really happy now that I didn't take them to a swamp meet in San Diego.
There is no village at Bahia San Quinton but a nice sandy beach so we dropped the skiff in the water and piled in to go ashore for a picnic.
The next morning Nov. 14 we sailed for Cedros Island. And after another good 36 hour sail anchored in a large bay on the south end of the island for the night .
Then on into Turtle Bay in the morning catching our first fish of the trip ' a tuna 'and trading some gum and cookies for three lobster on the way. We found Turtle Bay to be a delightful little place with nice restaurants and a very good bakery.
But after two days it was time to sail on. Another good overnight sail took us to Punta Abereojos anchorage but we didn't attempt a landing here because of the large surf rolling in.
Then on to Bahia Santa Maria and the first time for no wind for since somewhere back up the California coast somewhere. So we powered all the way and stopped only one day again not going ashore though the surf. And on to Bahia Magdelina, a beautiful big bay where we anchored off Punta Belcher for one night and rowed ashore to explore the old whaling station.
Then moved to Man of War Cove and anchored off the Village of Puerto Magdelina. A nice little fishing village of about 50 houses 3 small stores and a restaurant that serves very good heoavos rancheros. Here the port captain Gregario offered us a ride into San Carloss in his pango. We bought a few groceries, had a nice lunch and a good look around the town before it was time for our pango ride back to Camelot V.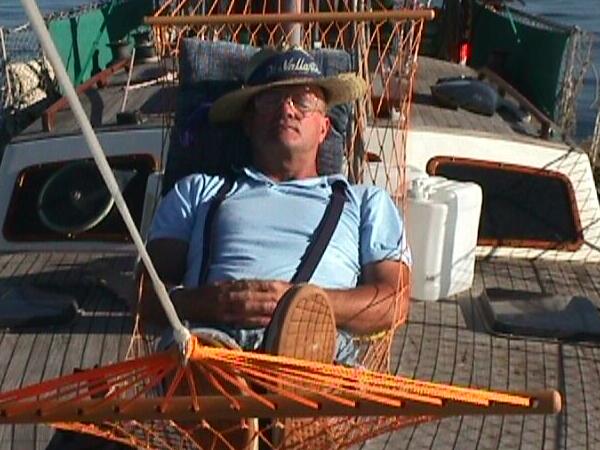 Relax Time
Click picture to enlarge

Then after a day on the beautiful beach in the sand dunes and up the lagoon it was again time to sail on. A great 34 hour sail in which we caught 5 tuna and kept 2 to eat. Then a bit further and we could see the hole in the rock at Cabo San Lucus. As we expected there were quite a few boats anchored here. It is always nice to catch up to friends we haven't seen for a while. Of course everyone knows Cabo is a great place. We did the tourist things, John met Donna at the airport and after a few days we left for Los Frailes.
A nice sunny day trip took us to Los Frailes catching two fish along the way for supper. We anchored in the beautiful bay at Los Frailes among 6 or 7 other boats, some of them friends we had met along the way. The next morning we went out at 07:00 and stuck our nose around the corner but after feeling 20 knot winds on it we returned to the anchorage to wait for better weather. We were not sure how long the north winds were going to blow so John and Donna caught a ride into San Jose to be sure they wouldn't miss their plane. Where I hope they had a pleasant stay.
We spent a couple more nights no the hook in Los Frailes before getting a nice day and motored up to Ensenada de los Muertos. Where we spent one day and then continued on into La Paz against 20 / 25 knot head winds.
16:30 hours Dec 10 / 98 anchor down in La Paz Harbor.

---
Go to last update. -- Go to next update.
Return to Camelot V Sailing Page. -- Return to Dale + Muriel's Home page.