Camelot V - Update 18


---
Tuvalu to Western Samoa
Aug 2003


Funafuti Atoll as I said is 7 miles long and a stones throw wide, so it is easy to get to know it quite well while waiting a week for a new crew to arrive. But John did finally arrive and we got busy preparing for the next leg of the journey 650 miles to Canton Island in Kiribati. (pronounced Kiribas)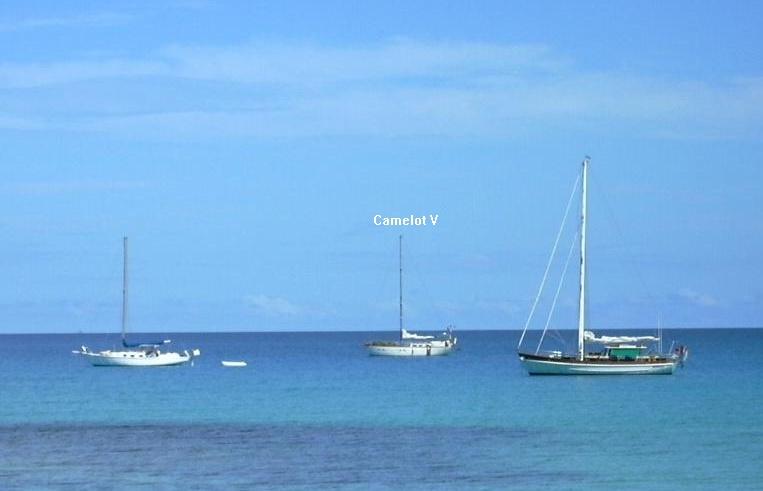 Anchor at Funafuti Atoll
Click pictures to enlarge

On July 12th we motored out through the pass and set a course for Canton Island. We continued on under power in very little breeze and calm seas. Sea and weather conditions remained the same for four days as we chugged along at about 4.5 knots. We tried to sail a few times only to loose the wind as soon as we would get the sails set.
On the 16th the wind came from the ENE at 8 to 10 knots and we were able to shut off the engine and sail at 5.5 to 6.5 knots.
Arrival at Canton was easy. Anchor down and the skiff in the water we went ashore to check in with customs and immigration and were told to walk 3 kilometers into the village. A pleasant walk to the village and a few questions later we found the Customs man, who is also the Immigration man, who is also the police man.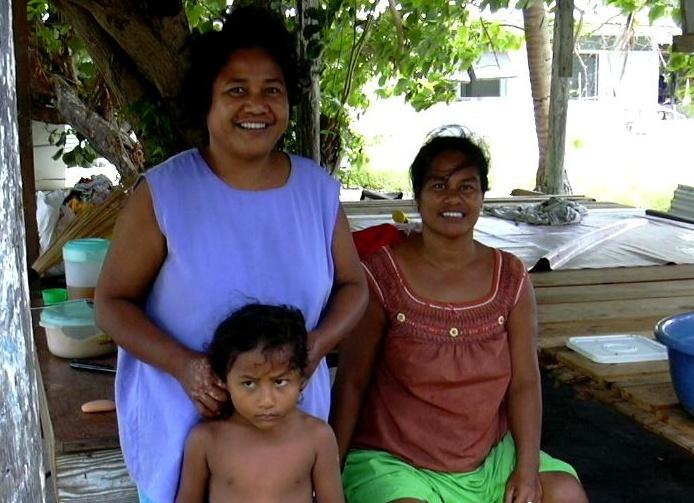 The Custom man's family

While getting checked in we met the Customs, Immigration, Police mans's family and got information on the island. There is about 40 people living on the island, There is no store. The people get their supplies from the supply boat that comes buy every two or three months. This was not a problem but there was no diesel fuel ether. Which was a bit of a problem as we had used most of ours. And my plan was to continue on to the north east to Christmas Island sailing when possible and using the engine in the doldrums. But this plan required fuel. After a nice days rest we decided to sail for Western Samoa to get fuel.
The wind in the harbor had raised to 20 knots from the SE. and in the after noon I noticed our anchor was dragging. This was the first time for my anchor to drag in the five years I had been sailing. John took a second anchor out with the skiff and after two try's it set and we held until morning.
On the morning of August 20th we raised both anchors and put to sea, and with 15 knots of wind from the SE set a course for Apia Samoa 660 Mile to the south. The wind strength stayed between 5 and 15 knots but swung a bit more around from the south so we had head winds all the way to Apia. With light winds and head winds it made for slow going. And one morning John noticed a lower shroud was starting to unravel. But no serious problems and on August 28 we arrived in Apia harbor.
John will leave for home from here so I will be on my own for the next two legs of the journey to Christmas Island and Hawaii. But first I will order two new lower shrouds from New Zealand put them on before I,m ready to leave.

| | |
| --- | --- |
| Hitch Hiker | Apia Harbor |
---
Go to last update. -- Go to next update.
Return to Return to Camelot V Sailing Page. -- Return to Dale + Muriel's Home page.