Camelot V - Update 19


---
Samoa, Christmas Island, Hawaii
Oct 2003


Apia Samoa is as good a place as any to have to wait around for parts. There were about 15 or 20 cruising boats in the harbor and a couple of them were boats I had met a year ago in Fiji. It's always nice to renew old acquaintances and catch up on news of other cruisers.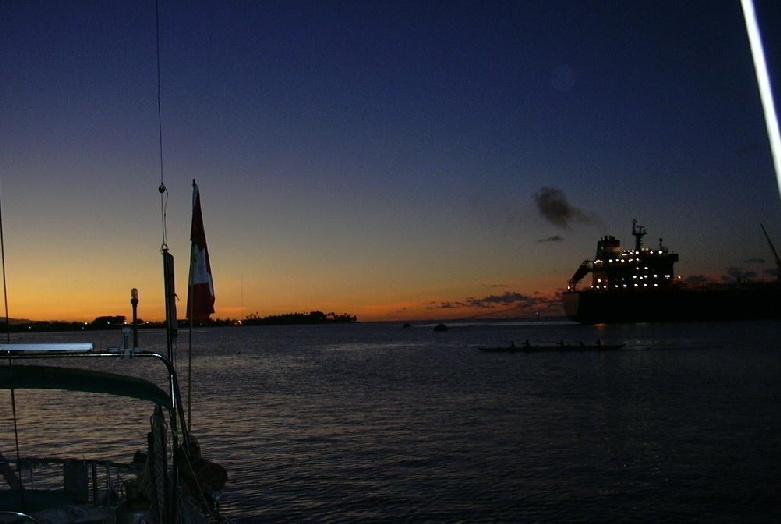 Apia Sunset
Click pictures to enlarge

By the time my repairs arrived and I was ready to leave a bit more than two weeks had gone by. But all my chores finally were all done I was fueled up had no more reason to stay. So on Sept. 13 I left Apia harbor bound for Christmas Island 1260 nautical miles to the NE. Then on to Hawaii, another 1060 nautical miles.
I would be doing these two legs of the journey alone so was prepared for some quiet lonely sailing.
Remember those SE trades that I sailed against coming from Canton Island? Well they are now coming from the NE. The direction I want to go.
I had beautiful clear weather to when leaving Apia. Winds were 10 to 15 knots from ENE. So I was able to make headway to my waypoint.
The third night out I jogged through some fishing boats then saw no more traffic until close to Christmas Island.
Nights were clear with a bright moon for the first part of the trip but after a couple of weeks the moon phase does change and I then had bright star lit nights. With the southern cross clearly visible. On the tenth day out I baked and had fresh bread.
Winds remained light or nil so I swapped between powering and sailing. Christmas Island is an atoll so is not visible from very far, but on the 17th day out I saw the tops of the palm trees appear on the horizon.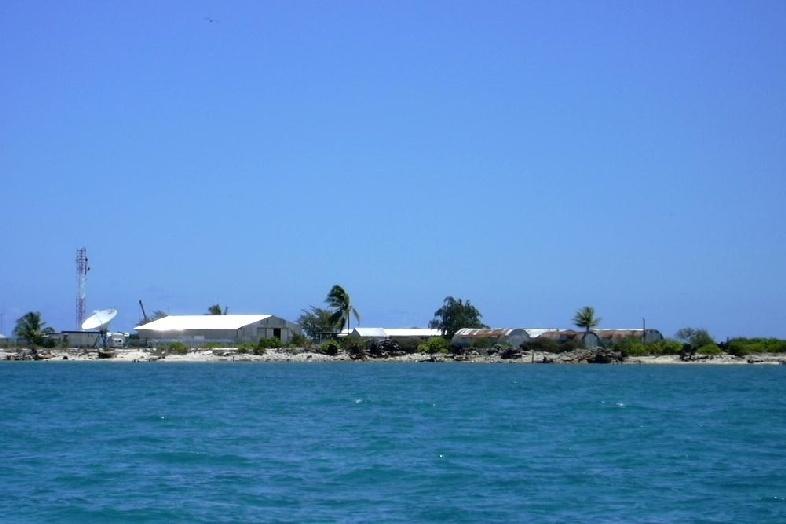 Christmas Island

I entered in through a very shallow passage and anchored in 2 fathoms just off the village. The skiff was lowered and I went ashore to get checked in. And have lunch in the Cafe.
Christmas Island is a very pleasant atoll and part of the country Kiribati. The main town here is London which has a few stores and a couple of bars and restaurants.
After two days of relaxing and exploring the island I had to start figuring out how to get fuel and water to Camelot V. I could get fuel delivered to the dock but the bay was too shallow to allow Camelot V in close to the dock. So I got the fuel delivered in two barrels and hired a fisherman to transport them out to me. Fresh water was not a problem as the village has a water maker. So again I hired a young fellow I met in town to haul water to me with my skiff and two jerry cans.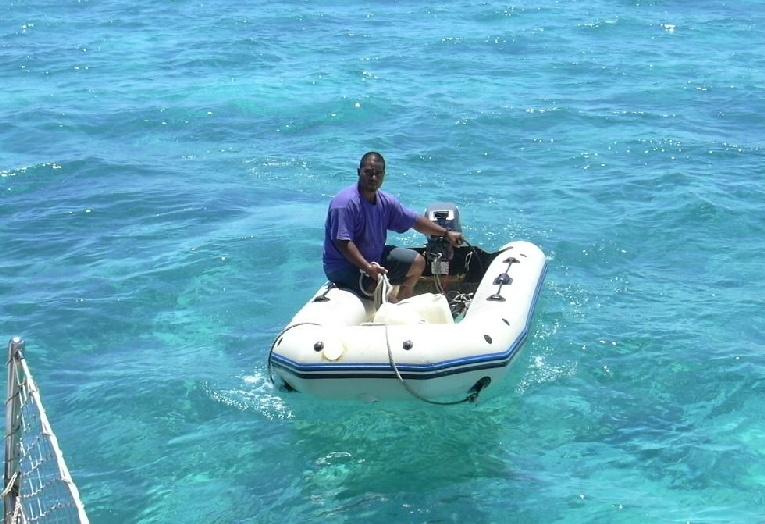 Hauling Water

One day while sitting in the cockpit relaxing, a canoe pulled along side and hailed greetings from Brooks Alberta. He is a member of the same church as my son and his family and was on Christmas Island building a church. Small world.
I would have liked to stay longer but after getting fuel and water I needed to get on my way. Oct. 6th I picked my way back out of the shallow anchorage and sailed out around the point with about a dozen dolphins escorting me out to sea with 10 knot trade winds from the east.
I then set a course for a bit east of Hawaii wanting to get in some easting on the first portion of the trip incase I encountered NE winds further along. With beautiful sunny days and star filled nights I sailed with 10 to 15 knots of wind on my beam. Until the fourth day, I heard a loud 'Bang" and the boat shook. My first thought was I had run into something. But I soon noticed the forestay had parted. I rushed around getting sails down then secured the for'ed halyard to the Anchor roller as tight as I dared. The wind by this time had swung to the NE and I could make no headway with only a reefed main. All I dared to raise. So I was under power. I had a fairly good supply of fuel but not enough to reach Hawaii. I Emailed (sailmail) my brother and asked him to alert the coastguard of my situation. I felt I should do this incase the mast came down which would be the end of my SSB antenna and my communication with the rest of the world.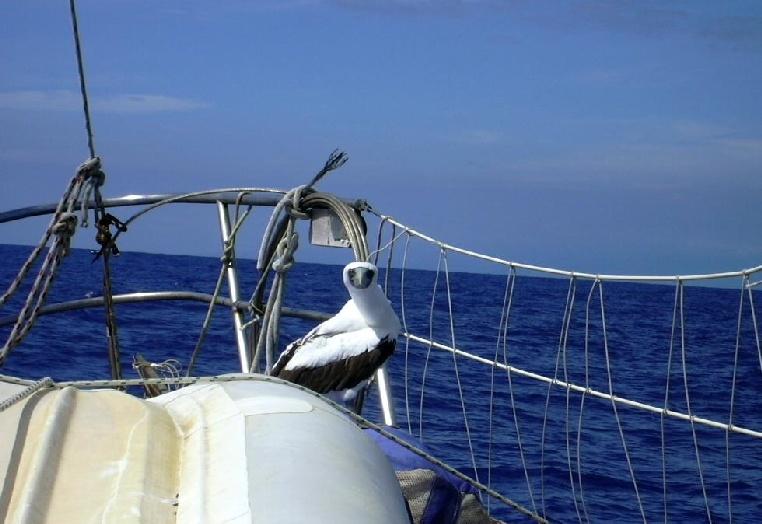 Visitor

I continued on as best I could, sailing when possible and powering other times but the head winds and choppy seas made travel slow while under power and burning fuel for only 3 or 4 miles per hour.
A bird landed on Camelot V one day and rode along for a few hours. Nice enough company but not much on conversation and terrible bathroom habits.
Brother Ben phoned everyplace on the Island of Hawaii to try to arrange to have fuel transported to me if necessary but could find no one with more than about 100 miles of range. But he noted that I could possibly check in on the west side of Hawaii at Kona. All the guide books I had on board said Hilo was the only place on the big island to check in at. I emailed the coastguard. They said "only Hilo".
Ben said no Kona as well and sent me an email address for customs in Kona. I emailed them and they said "Yes we are here."
So I changed course which was enough to put the wind far enough aft that I could make nice time under reduced sail. Rounded the south west corner of Hawaii just before dark and sailed along it's western shore for the night arriving at Kailua bay shortly after daylight.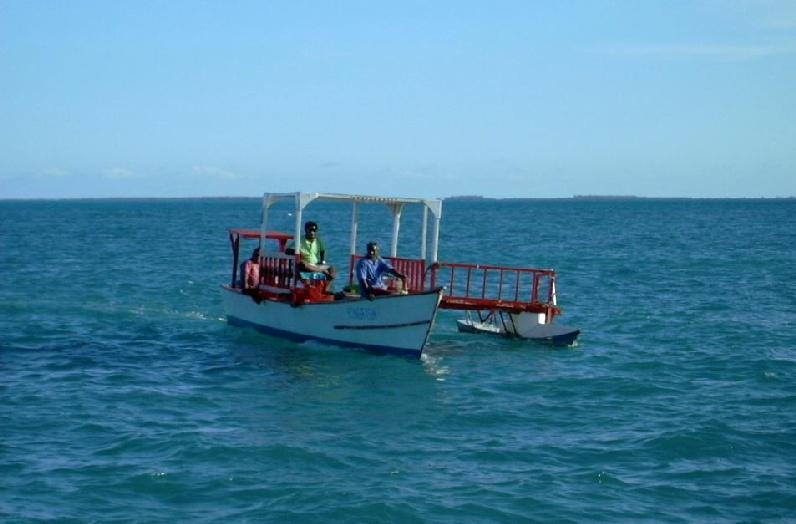 Christmas Island Fishermen

It was good to be in with my anchor down and so good to have made it with my own power.
Thirteen days out of Christmas Island and thirty one days out of Samoa
Thanks to Ben for all the phoning and emailing you did.
I got the skiff in the water and ventured ashore to call customs. They were busy so said come into the dock in the morning and they would check me in then. That was great! I needed some sleep!
Next morning I got cleared into the USA. Went back out, anchored once more and spent the rest of the day relaxing and walking around in the town of Kona. I took Camelot V to Honokohou Marina and put her on the hard.
Muriel flew over and we spent a nice week on the island being tourist before flying home.
I will return in the spring to continue on to Vancouver Island.

---
Go to last update. -- Go to next update.
Return to Return to Camelot V Sailing Page. -- Return to Dale + Muriel's Home page.