Camelot V - Update 14


---
Fiji to Australia - Aug 2002

After a good time at home over Christmas I arrived back in Fiji in March. Camelot V had been put away by the crew from the marina and she sat patiently waiting for my return.

Camelot V Vuda Point Marina
Click picture to enlarge

I got her out of the hole onto stands and got bottom paint on her and got her back in the water. I had quite a lot of cleaning and general maintenance yet to do. But it is much nicer living aboard while in the water than on the hard. So now back in the water I got to work on the chores.
I only had two weeks before our nephew Brad arrived for a two-week holiday. But in the two weeks had I managed to get the old ship livable.
After Brad got settled into the warm weather and had seen both Lautoka and Nadi we sailed the twenty or thirty miles over to Musket Cove.
Musket Cove Resort is on Malolo Lailai Island and is a truly wonderful place for yachties. There is limited tie up space inside but plenty of mooring buoys and lots of room to anchor in the bay out of the resort. A lifetime membership for the captain of foreign vessels is one Fijian dollar. And five dollars for crew. This gives you full use of the resort facilities, store, showers, washrooms, pool, and the $3 Dollar Bar.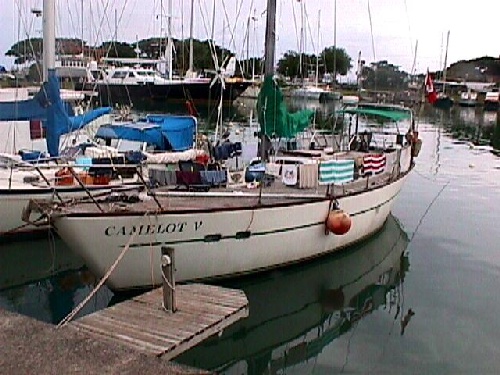 Camelot V Vuda Point Marina
Click picture to enlarge

There is also good snorkeling in a few locations near by. Brad and I lazed around here for a few days of enjoying the resort, snorkeling, fishing and Brad rented a small sailing catamaran for a couple days that was fun but had problems staying right side up.
We then sailed back over to Vuda Point to meet grandson Justin and his friend Lillian at Nadi Airport.
Again we made the tours of Lautoka and Nadi Town. We needed fresh meat, vegetables and supplies now also. So after getting this all done we sailed again over to Musket Cove. We would spend the next few weeks near Vuda Point, Musket Cove, Mana Island, and Sweeny Bay because they are nice places to be and they are near the airport to make access easy.
After a few days snorkeling and enjoying Musket we sailed about ten miles north to anchor at Mana Island.
Mana Island is a nice little island with a very nice resort and a backpacker hostel. Both were very friendly and we went to the hostel for supper one night for sausages and beans. The hostel was a fun place with all the young people around. After a few days here it was time for Brad to catch his plane back to the real world so we had another nice little sail across to Vuda Point.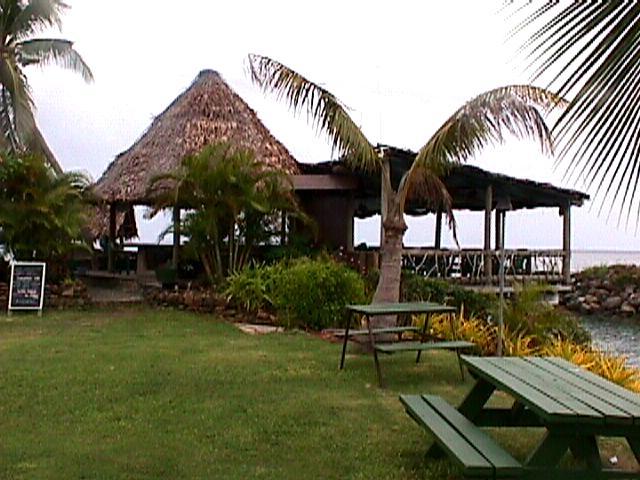 Vuda Point Marina Pub
Click picture to enlarge

After Brad left we spent a few days in Vuda Point Marina then sailed back over to Musket Cove. Justin took a Paddy diving course and each morning our biggest problem to solve was. Should we go snorkeling before breakfast or after? Usually we went before breakfast. With beautiful weather and no particular schedule we lazed around on deck or around the pool, went for walks on shore and swam and snorkeled. Time went fast and we were soon back at Nadi Airport saying goodbye to Jillian. Justin had decided to stay for a few more weeks.
Justin and I were to sail to SavuSavu to meet Tex and Sail to Tuvalu. But we encountered 40-knot head winds around the north east of Venua Livu Island and then some mechanical problems so thought it best to return to Vuda Point to do our repairs. Our repairs went smoothly enough but by this time Tex and Justin's schedules did not afford the time for a cruise to Tuvalu. So the time was spent again in the Mamanuka Islands and at Sweeny Bay.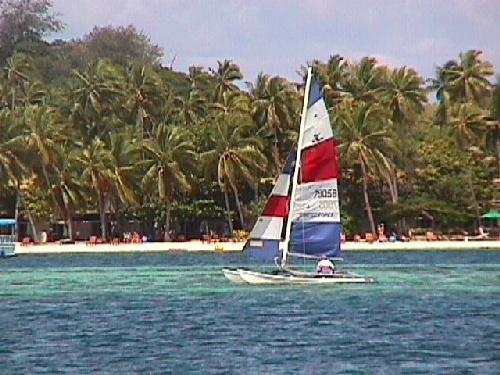 Brad at Musket Cove
Click picture to enlarge

After Tex and Justin flew home I found things very quiet aboard Camelot V as I waited for Muriel to arrive from Canada. She had some business to clear up before she could leave and the Canadian bureaucracy dragged things out for what seemed forever.
After getting tired of waiting we decided I would sail to Australia and Muriel would meet me there. So about July 26 I left Vuda Point Marina bound for Bundaberg Australia.
All the guide books and wind charts said I should have SE trade winds blowing on my port quarter for the whole trip. But not so. I motored out through Navalu Passage with no wind and flat seas. And traveled under power for twenty hours before the wind started gently from the southwest. I felt surely the wind would swing around and blow from the southeast or the east, but no luck. The wind was from forward of the mast all except for a couple of days on the beam for the whole 1400 miles at 15 to 25 knots.
I arrived at Port Bundaberg Marina after 14 days at sea. I think Port Bundaberg is the easiest port to get into on the east coast of Australia. And is a very friendly and pleasant place to stay.
Muriel arrived in Sydney about ten days later. We bought a 1968 Mazda. And with no schedule to keep we were like a couple of teenagers out of school for the summer. We have a big country to explore here.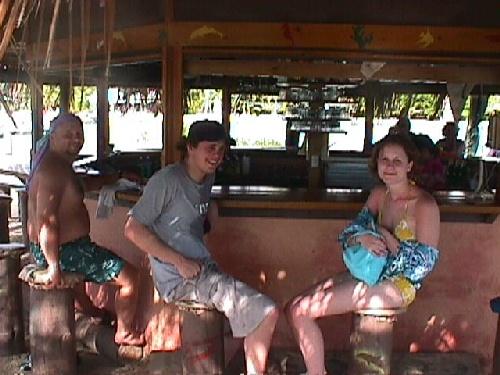 $3.00 Bar Musket Cove
Click picture to enlarge
---
Go to last update. -- Go to next update.
Return to Camelot V Sailing Page. -- Return to Dale + Muriel's Home page.